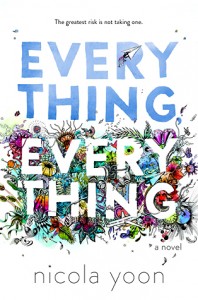 The not-so tragic love story of two teenagers where one is sick (or is she?)
About the book:
My disease is as rare as it is famous. Basically, I'm allergic to the world. I don't leave my house, have not left my house in seventeen years. The only people I ever see are my mom and my nurse, Carla.
But then one day, a moving truck arrives next door. I look out my window, and I see him. He's tall, lean and wearing all black—black T-shirt, black jeans, black sneakers, and a black knit cap that covers his hair completely. He catches me looking and stares at me. I stare right back. His name is Olly.
Maybe we can't predict the future, but we can predict some things. For example, I am certainly going to fall in love with Olly. It's almost certainly going to be a disaster.
My review:
I'm a bit late to the Everything, Everything game but at least I got there, right? As someone who has read plenty of YA, and at one point thought that was the only books that appealed to me, this has been a bit disappointing. I'll admit I started reading because I saw the film was coming out and, as a reader, I like to dive into the book before I watch the film. I was hoping for a sweet but sad love story between teenagers with a obviously happy ending (isn't that how they always go?) but ended with this bittersweet aftertaste.
The problem? The book is incredibly predictable. I mean, it's so obvious that Maddie is not actually sick that by half the book I was just impatiently waiting for the revelation like, come on, just get it over with! Taking into account the whole story is built around Maddie's disease, this make for a big problem.
Now, the relationship between Olly and Maddie is cute and sweet and all you can expect from a YA book, including all the stereotypes and/or classic background plots: the new neighbours, the boy next door, the abusive father, the overprotective mother and so on and so on. The problem for me is precisely that: too many cliché all in one story. If you can move past it and keep reading, the outcome is ok. I mean, when it seems their relationship is over, BOOM, the secret is out. Maddie is and has always been healthy, or as healthy as an 18-year-old with the immune system of a newborn baby can be. I found the outcome of that particular plot point acceptable, even if Maddie forgiving her mother was far fetched for me. Sorry, but that woman didn't deserve any forgiveness, grieving or not. But an ending to a teen book wouldn't be complete without the two star-crossed lovers coming together for their riding into the sunset moment.
From the first meet-cute to the perfect happy ending, Everything, Everything has the essential elements for a lovely, sweet and dramatic story that will suck you in.
About the author:
Nicola Yoon grew up in Jamaica (the island) and Brooklyn (part of Long Island). She currently resides in Los Angeles, CA with her husband and daughter, both of whom she loves beyond all reason. Everything, Everything is her first novel.